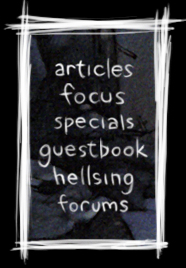 Samurai Champloo Review
Ok, kiddies... if you haven't heard about Samurai Champloo, here's a short review of the series. This is a story about how a cute girl named Fuu convinces these two shady guys, Mugen and Jin, to travel with her in search of some random guy. As with any sword fighting anime, there will be sword fighting, and shitloads of it in the case of Samurai Champloo. Mugen and Jin meet in the first episode and just spontaneously start attacking the shit out of each other.... FAST FORWARD... and then they just started killing everybody in the anime. Yeah, it was awesome. I know. Shut the fuck up.

Unlike most other sword fighting animes, many aspects set this series apart from the rest. For one thing, the styling of the series dips heavily into hip hop culture, with respect to the excellent beat selection, graffiti artistry, scratching records, and bboying techniques among other things. Practically unheard of in any anime series I've ever seen, which is rather unfortunate. The fight scenes are fucking evasource, and that's pretty much all you need to know.