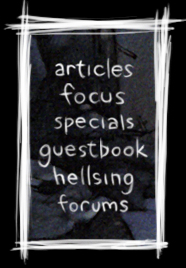 Full Metal Alchemist Review
At the time of writing this article, it will be the fifth time I have watched Full Metal Alchemist. The first episode of Full Metal Alchemist I had ever seen was actually at Otakon 2004, just minutes prior to the L'arc~en~Ciel concert. Unfortunately, the episode was dubbed for Cartoon Network. Enough said. It left a pretty poor impression, though I knew it had potential. Not long after returning from Otakon, I downloaded and watched the whole series...

The story pretty much goes like this... the main characters, Edward and Alphonse Elric lose their mother and attempt to bring her back using alchemy. It turns out they didn't really know what they were doing, and to say the least, they fucked up. Ed loses an arm and a leg and Al gets totally screwed over and loses his entire body. They go on a series of adventures, searching for the Philosopher's Stone, which they believe will make everything right again...

I can't even begin to tell you how awesome this series is....it was just that good... Immediately after watching the last episode of Full Metal Alchemist for the first time, I proceeded to watch the entire thing again from beginning to end. It has everything... an original concept behind an incredible story line, strong character development, an excellent soundtrack, and plenty of action. The series has everything that makes a good story, a good story, and even saying that doesn't do it justice. Go see for yourself... you'll know, without a doubt, it's as good as I say it is.