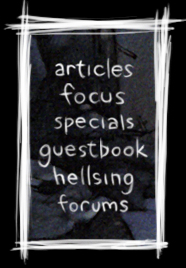 Hellsing FAQ
Hellsing is a straight up awesome violent anime. God knows why there are questions, but we're not the ones to back down to idiotic and retarted Evasource fans out there! So to spare you the crap you probobly don't read anyway, here's the Hellsing FAQ!

---

Yeah, I have lots of questions about Hellsing.

Take a number, jackass.

What?

Nothing, ask your questions.

Uh, sure. Uh. Why does Anderson keep getting up after dying? Is he a ghost too?

First of all, he's not a ghost and there aren't any ghosts in this fucking series. Anderson is a regenerator, meaning he's a human that can regenerate parts of his body like his brain and shit. He's a priest that has better things to do than moleste little boys.

Where do his new arms come from?

His arm sockets?

That wasn't an answer you jackass!

Well that wasn't a question. Next please.

Where does Alucard get new clothing after he regenerates?

Hellsing secretly manufactures secret clothing in a secret room in the secret basement. Shhhh it's a secret.

Why isn't Integral hotter consistently?

How the fuck should I know?

But wait, isn't this an FAQ section? Aren't you suppose to answer the questions?

WHAT THE FUCK DOES THIS LOOK LIKE, AN FAQ?! A PLACE OF INFORMATION?! I'LL FUCKING KILL YOU, RIP YOUR GENITALS OFF AND HANG YOU FROM A CEILING FAN!

Why does the Hellsing Army even exist? Why doesn't Integral just use Alucard to kill everything?

That actually bothers me too. The soldiers are clearly useless and use regular guns which have already been PROVEN TO NOT WORK ON GHOULS AND VAMPIRES. In fact, I don't even understand why they have a general for the army, whatever his name was. It would be a logical assumption to say that Integral is probobly breeding these soldiers for Alucard to eat.

Adam looks pretty tasty!

...What?

Why the fuck is Helena even in the story? She appears, she dies. Big fucking dandy whoop.

I know, shit. She wasn't even a cute little girl... she was an idiotic little girl that just read books. Reading books... now that's one hell of an evil power.

What's up with Anderson's flashback?

It basically serves to illustrate that Anderson didn't always have the power to chuck knives and come back to life for no reason. He probobly got his badass powers from God in that scene.

I can't believe Arashi betrayed the Dragons of Heaven!

Me neither.

What's with those freak chips?

Freak chips are this litte chips that are placed behind your ear that turn humans into vampires. How they do this... I have no fucking idea. It was speculated that all humans were actually vampires and the freak chips just brought that out but, whatever.

Where can I buy one of those?

Try EBay.

Vegita could probobly kick the crap out of Alucard!

Alucard could most definatly eat Vegita and your first born child so shut the utter fuck up.

But he has fireballs!

So does your mom.

Wait... that doesn't make any sense!

YOU KNOW WHAT?! FUCK YOU AND YOUR STUPID MOM! I HOPE YOU BOTH GET RAPED BY GOATS AND ROT IN SOME HORRIBLE FIELD IN NORTH DAKOTA!

Integral's eyes shrunk when she got older.

Yeah.

I'm madly in love with Integral! How would I go about-

You obviously don't realize that Integral has no interest in males, or females for that matter. I suppose if you were brave enough to even attempt to ask her out, you should have a strong interest in the undead. Booze will probobly have no effect on her at all, but I have no idea about the date rape drug. The quickest way into her pants would be jacking them when she's on the crapper but short of using the unholy powers of a genetically engineered vampire to rape her, you won't get very far. I assure you.

Why did Integral stab herself?

Because she had just been bitten; by stabbing herself in the neck, she drains the vampire blood from her body.

Is Integral a vampire?

Does this sound like a good, logical question to you? Because I assure you, it fucking isn't.

What is Incognito?

He's the "True Undead". I'm not sure if that implies he's a vampire or he's god of the underworld, but he's more powerful than those shitty vampires Alucard kills in the series.

Incognito looks tasty!

What?

Hey, remember when Alucard GOT KILLED by Incognito? Wasn't it cool when HE CAME BACK?!

Yeah, I hope that didn't ruin it for any of you poor bastards reading this. Spoiler alerts my ass.

Fergusson is a retard.

Who the hell is Fergusson?